NC 21 MOMENTS
01 NCDP
02 R&D CENTER
03 NC AI DAY
04 CLASH OF THE WIND
05 NC DINOS
06 NC HALLOWEEN
07 I&M REPORT
08 ARENA BATTLE AI
09 NC GAME JAM
10 FOLEY STUDIO
11 20th ANNIVERSARY
12 SIEGE WAR
13 LAUNCHING PARTY
14 NCSOUND
15 BARTZ LIBERATION WAR
16 LAUGHING PEANUT
17 FEVER FESTIVAL
18 TOUR DE NC
19 NC CULTURAL FOUNDATION
20 AION LIVE CONCERT
21 MOTION CAPTURE STUDIO
01 NCDP
NCSOFT DEVELOPERS PARTY (NCDP) is an event where employees can share their knowledge, experience and passion for video games. As an occasion for all team members to share development insights gained within their areas of expertise, it allows for exploration of video game trends and new technologies, thus creating a distinct culture based not only on knowledge, but also on common values such as discussion, communication and sharing.
02 R&D CENTER
Pangyo R&D Center opened its doors in August 2013. With 5 underground floors and 12 above, this new home is now a gateway for our dreams of the future. It is a base camp where we seek new ways to create joy, and it has become the symbol of Pangyo Techno Valley for the Korean IT industry.
03 NC AI DAY
Since 2011, as the first Korean video game company to have founded an AI research organization, NC has been at the forefront of artificial intelligence research centered around its AI and NLP centers. Every year we host NC AI DAY, a meaningful event dedicated to the exchange of knowledge in order to share the results of our research and development with ever larger numbers of same-minded professors, students and researchers, in the spirit of mutual improvement.
04 CLASH OF THE WIND
Released in September 2012, Clash of the Wind was considered to be one of the greatest Lineage updates ever, as it created a system where Death Knight transformation level could be reached within just 14 days. Within 3 months after the update, it reached a record of 220,000 simultaneously connected players in Korea, along with a total of 490,000 new and returning members, proving that the potential of the Lineage IP is truly timeless. Lineage
05 NC DINOS
NC Dinos is the 9th professional baseball team in Korea, created with the dream of bringing joy to the world through baseball. To support that dream and be victorious, 1,100 employees formed an expeditionary cheering squad for NC DINOS, filling the Masan Stadium in Changwon with their loud cheers. NC DINOS
06 NC HALLOWEEN
Every year, during the last week of October, the Pangyo R&D Center is crawling with monsters! On NC Halloween Day, NC employees show off original cosplay costumes and decorate every corner of their office, creating fond memories with family members, loved ones and friends.
07 I&M REPORT
Four times a year, the CEO and all employees at NC gather together to share and discuss the company's core values and main issues. Organized for the first time in May 2014, I&M REPORT has since created a new model for internal communication at NC, deeply rooted in the culture of free exchange, allowing the company's vision and philosophy to be shared in a horizontal structure of understanding and solidarity.
08 ARENA BATTLE AI
During the Championship Finals at the Blade & Soul Tournament in September 2018, NC revealed its Duel Match AI that it had been developing for 3 years and 6 months. Developed with the use of reinforced learning as its core technique, Duel Match AI engaged in tense battles with top players from across the globe including America and Europe, proving that a game AI superior to professional gamers could someday exist.
09 NC GAME JAM
NC Game Jam is an opportunity for creative and daring NC employees to get together and share the joy of video game development. Participants form their own teams, and have 48 hours to design, develop, and release their games, thereby sharing ideas and harnessing talents to turn imagination into reality.
10 FOLEY STUDIO
With the establishment of Foley Studio in 2013, NC became the first Korean video game company with its own professional recording studio – the biggest in the country – specializing in sound design. NCSOUND's unparalleled and unique sound library filled with realistic sound effects recorded by foley artists, as well as the multi-surround sound mixing room equipped with Dolby Atmos™, constitute NC's assets for producing high-level original sounds.
11 20th ANNIVERSARY
NC, which started in 1997 as a small team of 12 in a simple office in Samseong-dong, recently celebrated its proud 20th anniversary in 2017. NC received a multitude of congratulations for its 20th anniversary. It extended its gratitude to the employees who had over the years shown great dedication and passion, as well as all the numerous supporters that had helped to raise the company up with their love.
12 SIEGE WAR
At 8 PM on Nov. 5, 2017, the first castle siege, the siege of the Kent Castle, was launched on all 130 servers of Lineage M. Tens of thousands of players were surprised and inspired by experiencing on their mobile phones the same massive scale battles that they had known from the PC version. The raising of the victorious flag over the tiny Kent Castle on thousands of mobile screens symbolized the true beginning of the era of mobile MMORPGs.
Lineage M
13 LAUNCHING PARTY
Minutes before midnight, NC employees, filled with excitement, gathered in front of the countdown screen for the launch. As the result of two, three, or even more years of imagination, hard work and dedication was about to be revealed to the world, we gathered together to sincerely rejoice and cheer as a family.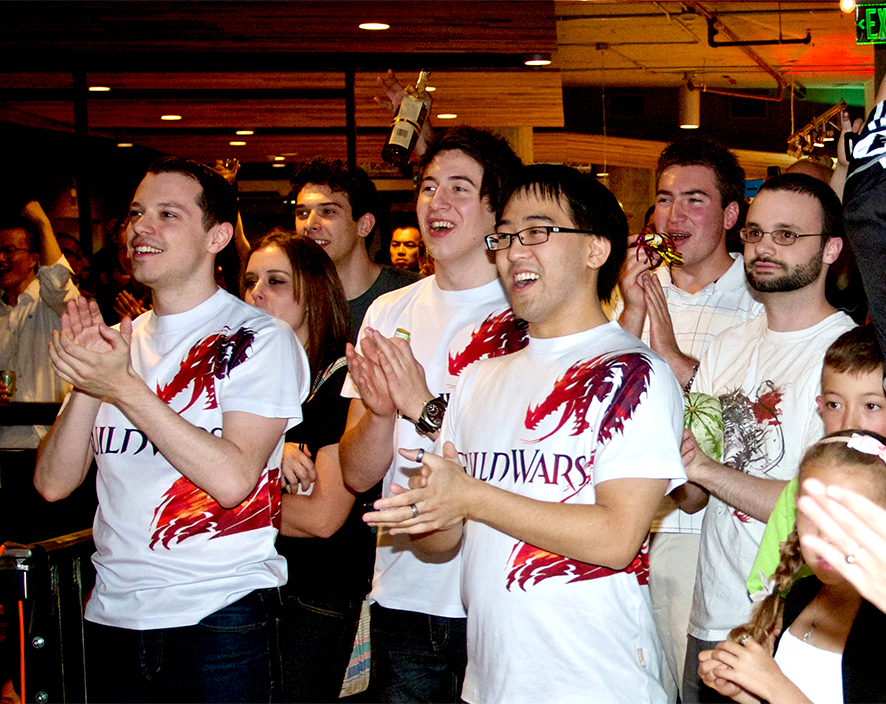 14 NCSOUND
We make hundreds, even thousands of attempts to produce the perfect sound, even if it is shorter than one-tenth of a second. Our quest for the ultimate video game sounds began with the creation of NCSOUND in 2010. NCSOUND's constant pursuit of new sound experiences with the development of cutting-edge audio technology and unprecedented music composition set a new direction and establish new standards for video game sounds in Korea. NCSOUND
15 BARTZ LIBERATION WAR
Bartz Liberation War is a struggle for freedom that has lasted for as long as Lineage 2 – 270 years, according to the game world timeline. Over the course of 4 years since June 2004, over 200,000 players took part in the Bartz Liberation War, which was recorded as the Internet's first netizen revolution. Featured in various forms of cultural content, including articles, webtoons, novels, and exhibitions, this event showed the real extent of social, political and cultural influence that an online video game can exert.Lineage 2
16 LAUGHING PEANUT
In August 2013, Laughing Peanut was created in the sunniest place in NC. Laughing Peanut is NC's very own nursery school, with 14 groups for children aged between 1 and 5. As the first nursery education institution in the world to obtain two ISO certifications simultaneously, Laughing Peanut combines space design aimed at experiential learning and development with the school curriculum incorporating IT technologies. Much more than just an ordinary workplace nursery, Laughing Peanut sets a new standard for nursery education in Korea. Laughing Peanut
17 FEVER FESTIVAL
Here at NC, we dream of limitless joy. Fever Festival was first held in 2016 so that everyone can come together and share a wonderful time with one another through the medium of music. With Fever Music, an annual event that attracts some of the top artists in the country, Fever Festival has secured its place as NC's unique cultural content brand. Fever Festival
18 TOUR DE NC
Experience the thrill of cycling across the country! When the first fresh winds break the summer heat in September, NC's dedicated cyclists depart from Pangyo and reach the end of the peninsula, or even discover new routes along the beautiful coastline of Jeju Island. This blissful journey over the course of 3 nights and 4 days, tests our resolution to pursue the same dream and drives us forward for the future.
19 NC CULTURAL FOUNDATION
NC Cultural Foundation, a non-profit foundation for public interest, was founded in June 2012, with the purpose of creating values for a qualitative leap in societal development. Using IT technologies to develop programs to help the disadvantaged, and support education to help more young people broaden their creative perspectives, we use NC's influence and technological expertise to serve people.NC Cultural Foundation
20 AION LIVE CONCERT
A unique combination of online gaming and live broadcast. In January 2013, we hosted the IU Live Party, a brand new content event, where singer IU performed live and had a fan meeting inside the AION game world. More than 60,000 players from over 44 servers gathered in the virtual space 'Live Air' to experience a new kind of joy, blurring the line between physical and virtual reality. AION
21 MOTION CAPTURE STUDIO
The true dynamism of movement and facial expressions captured by over a hundred 16-megapixel cameras! In 2016, NC established its motion capture studio, the largest among video game companies in Korea. Here, experienced professionals use cutting-edge equipment to produce top-level animations. Be it wiring for life-like mid-air action, or facial equipment capturing the smallest expressive details, NC is constantly investing into the development of visual effects that will amaze the world.